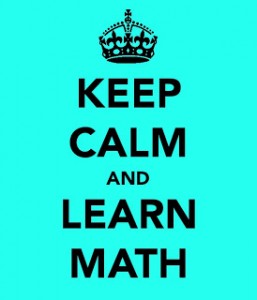 I have an online "colleague" who makes no bones about the fact that she hates math. She's expressed this opinion in numerous message threads on a community board to which we both post. She works in science education, and is about the most civil and respected voice as one is likely to encounter on these kinds of open forums. If there is one vice this person possesses (and I'm quite sure it is only this), it is that she continually professes, quite seriously and earnestly, that she hates math.
I don't think she's telling the truth. I believe it is impossible to "hate" math. Saying that you "hate math" is the equivalent of saying "I hate music," or "I hate food" or "I hate animals." Okay, everyone dislikes a certain style of music (those 12th century Gregorian Chants are not my favorites, truth be told) and it is possible to have negative reactions to things like okra when it is slimy instead of crispy, and yes, nobody likes lice, but really, a generalized statement declaring a hatred of math is just not possible.
Mathematics is an incredibly diverse field of study, and it encompasses so many different ways of analyzing and solving problems that a blanket statement like "I hate math…." cannot possibly make any sense. In fact, it is so nonsensical that it would be equivalent to declaring a hatred for thinking and feeling.
I can confidently say this, though: there are times when even those of us who know and enjoy mathematics find it either boring or frustrating or some combination of the two, but we also recognize that this this is not unique to mathematics. Whether you are conducting a scientific experiment or producing a blockbuster movie, there will always be extended periods of boredom and frustration. There's nothing wrong with this, and I can't imagine that anybody would discredit an entire activity based on this pervasive reality.
So here's my take: it's not that my friend "hates math." She only thinks she hates math. The journey to loving math could begin with modifying her blanket contempt for mathematics to something as simple as "I hate math when…." After all, you can hate okra because it's slimy, but when it's flash fried in a cornmeal crust, well, that's an entirely different matter….
Note: this posting has been brought to you by my online store, where you can find this  78 page collection of activities designed to facilitate number sense using different individual coins, as well as in combinations of 2, 3 or 4 coins. The guide also has an extensive preface describing the different types of number sense that needs to be developed at different grade levels.